Building junction box electrical wiring connectors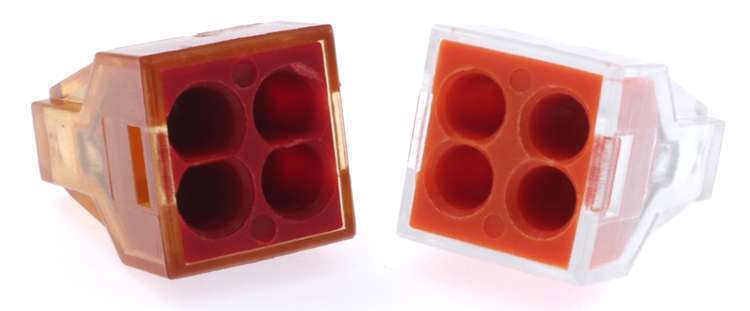 Description of wiring connectors
Most of the annual electrical fires are caused by the aging of wire connectors or poor contact. Traditional wiring generally uses electrical tape or crimping caps. These products cannot ensure the firmness and contact force of the connection part, and it is easy to cause the wire connector to fall off and ignite. Thereby increasing the heat, causing great safety hazards. The new construction wire connector can effectively prevent the above phenomenon, and it is more convenient and safer to use.
Features of Junction box connectors
Plug-in installation, convenient and time-saving;

It is small in size and can be installed even in a small space;

The shell is made of flame-retardant material, which is resistant to high pressure, anti-aging, and has good flame retardancy;

Tinned copper (nickel-plated) conductive strips have better conductivity;

The solid parts are nickel-chromium spring steel, which has strong elasticity and good wire fastening ability;

There are 2.5mm

2

and 4mm

2

apertures to choose from.
Specifications of Junction box connectors
Product Name:

Electrical wiring connectors




Application:

Junction box/electric power




Wiring method:

Insert




Wire type:

Hard wire




Strip length:

12 mm/0.47in




Cross section:

0.75 - 2.5(4.0) mm

2




voltage(max.):

400V




Rated Current:

20A




shell material:

nylon/PC




Conductive material:

Tinned phosphor bronze



More wire connectors:


FAQ
What are the different types of wire connectors?
There are many types of wire connectors. According to the connection method, they are divided into screw connection, crimp connection, and snap connection; according to the connection method, they can be divided into wire-to-wire connector type and wire-to-board connection type, with 1 to 1 and 1 to multiple out. Type etc.