Single pole PP75A 8 gauge battery cable connector red and black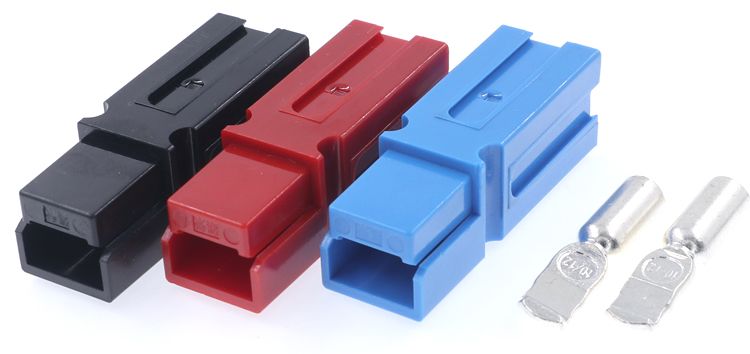 Features of Red and black battery connectors
The contact area is large, the contact current is small, and the surface of the contact can be self-cleaned during the plug-in process;
The same color can be docked with each other, no male and female design;
Silver-plated terminals, high current conductivity is better;

There are many types of terminals, and the battery connector allows multi-angle installation

SP75A connector Single pole design, can be used in multiple splicing



parameter of Red and black battery connectors
Product name




Single pole PP75A 8 gauge battery cable connector red and black




Rated Current

75A

Rated Voltage

600V

Wire Size

6~12AWG

Contact Material

Copper Plate With Silver

Insulation Material

PC

Flammability




UL94 V-0

Contact Resistance




<180mΩ

Insulation Resistance

5000M

Ω

Average.Connection

30N

Connector Holding Force

250N Min

Shell optional color




Red,Blue,Black,White,Gray,Yellow,Green,Orange



Drawing of SP75 Connectors





Note:A set of

SP75 Connector

, only contains a shell and a crimp terminal



Auxiliary parts for SP75 Connectors

Use occasion of SP75 Connectors

The SP75 Battery Connector is mainly used in AC/DC power inverters, electric bicycle power batteries, and industries and occasions that require single-max current connections.
FAQ
Q:Sp75 battery connector Can the color be customized?
A:Colors can be customized, but a certain minimum order quantity is required.
Q:Can all colors match each other?
A:There is no male and female design, the same color can be connected to each other, and battery connectors of different colors cannot be connected to each other.
Q:How long will it take to ship after payment?
A:battery connector with finished goods inventory can generally be shipped the next day; products without finished goods inventory generally have spare parts inventory, and they can be shipped within 5-7 days after placing an order.
*For more information, please contact us by email or through any contact information on the webpage.