M20 panel mount waterproof electrical connector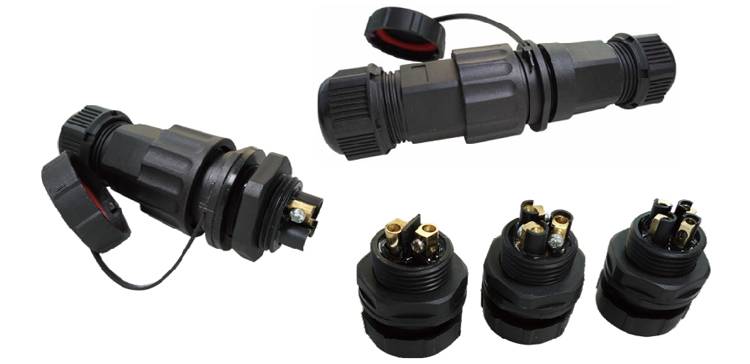 Description Of
M20 Bayonet Connector
M20 waterproof electrical connector is widely used in outdoor and underwater wire connection.
Contact: 2 poles, 3 poles and 4 poles

Wire to wire connection

Wire to board connection

Current:20A

Cable OD:8-12(mm)

Shell material:Nylon66,Fire resistance:V-0

Insert material: PPS max temperature 260

℃

Contact material:Brass with gold plating
Drawing of M20 Connectors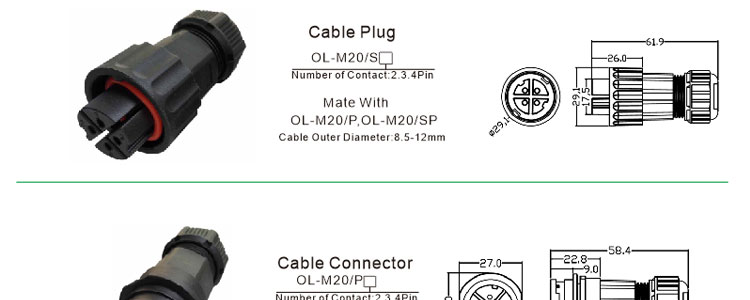 The M20 panel mount waterproof connector has a larger shell and a higher current range. It is a rugged and durable connector designed for indoor/outdoor IP67 environments. It is designed for bayonet docking and is an ideal choice for any waterproof connection conditions that require quick plug-in.
The connectors can be used for both cable to cable (in-line) and cable to panel-mount connections. Each side can be male or female contact, (Plug or socket versions), the IP67 Sealing caps are available for both cable connector and panel connector.
FAQ:
What are electrical connectors called?
Electrical connectors generally refer to connecting devices that connect two circuits. There are single-potential and multi-potential connections, as well as different levels of waterproof electrical connectors.
*If you need more information, you can find customer service through the contact information on the right side of this page.