2 pin 3 pin ip68 waterproof cable connector

Description:
This IP68 cable connector by OLINK can be used for safe and waterproof outdoor connection of electrical installations. The practical cable connector can be used to connect or extend cables.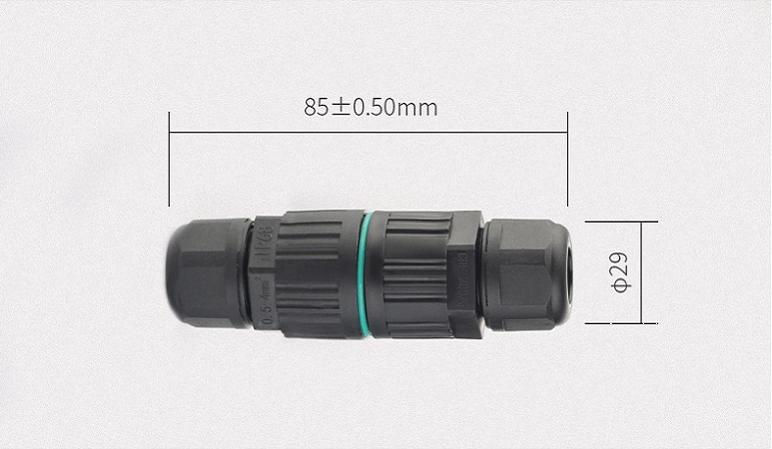 Features:
Cable glands joint is made of nylon PA66 plastic, durable and waterproof.

Wide adjustable cable range and special design of the clamping die and rubber part combine with strong stretching resistance ensure no damage to cables and devices.

Cable gland joint can be inserted through directly, and can be tightened easily without disassemble.

Gold plated copper contacts ensures good electric conductivity.

Long service life, plugging times more than 500 times.

Thread locking design for reliable connection.
Specifications:
Product Name:

IP68 Cable connector

Product Model:

CDF-200-2/3

Rated Voltage:

450v

Rated Current:

32A

Wring Range:

0.5mm²-4.0mm²

Cable OD:

Φ4-Φ8&

Φ7-Φ10

Product Material:

Flame retardant nylon

Contact Material:

Brass nickel plated

Number Of Cores:

2P/3P

Operating Temperature:

-40℃~95℃

Professional Level:

IP68/water depth 4m
Application:
CDF-200 waterproof cable connector ip68 is ideal for any equipment for watertight, indoor / outdoor applications, such as outdoor electric tools or appliances, medical device, communications, Marine equipment, under water equipment, outdoor led lighting, outdoor LED panels, outdoor security cameras, transformer, control box, machines and equipment, packing machines, and so on