22mm red mushroom electrical emergency stop button switch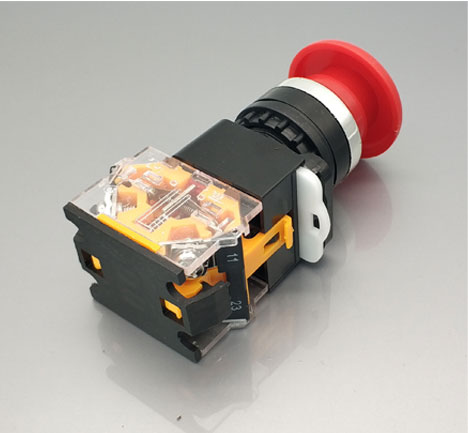 Features of 22mm emergency stop button
The original LA38 series push button switch with double-block moving contact adopts a shrapnel-type action mechanism, with the self-cleaning function of the double-block moving contact, the contact is accurate and reliable, and the arcing performance is good. The contact types can be combined arbitrarily.

The styles are diversified. The original switch of the LA38 series button is the same as the installation structure. As long as different operating heads are configured, different appearances and functions can be obtained, which is bright, beautiful and generous.

LEDG light source illumination, LA38 series illuminated buttons use LED light source illumination, which has the characteristics of bright color, long life and high reliability.
Specifications of 22mm emergency stop button
| | | | |
| --- | --- | --- | --- |
| Product Name: | Emergency stop button switch | Product Model: | LA38-11ZS |
| Switch Rating: | AC-15A 220V/6A 380V/4A 660V | Switch Function: | 1NO1NC, Momentary |
| Contact resistance: | ≤50mΩ | Insulation resistance: | AC 2500V 50HZ |
Application of Mushroom emergency stop button switch
LA38 series buttons are suitable for remote control of electromagnetic starters, contactors, relays and other electrical circuits with AC 50Hz (or 60Hz) 380V and below, DC voltage 220V and below.